"The Rotary Club Salutes the City of Tolerance and Peace" was the theme of the 21st annual Rotary Club Understanding and Tolerance Convention held on Friday, December 18 at the Beit Hagefen Arab-Jewish Cultural and Community Center in Haifa.
Leo Baeck General Manager Dani Fesler hosted the morning's program, attended by more than 250 individuals of all ages. The event commenced with a Caribbean steel drums performance by the Peace Drums players – Jewish and Arab middle school students from Leo Baeck and the Mar Elias School in Ibilin.
The performance was followed by a number of inspirational speeches delivered by Hani Elfar, Director of the Clore Shared Existence Center; Emile El-Asnar, District Governer of Rotary International; and Dr. Itai Gilboa of the Haifa Municipality; among others.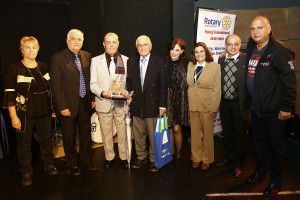 Mr. Fesler then announced this year's honorees:
Professor Rafael Beyar MD, DSc, Director of the Rambam Hospital's Health Care Campus, for his co-existence work treating and socializing sick children from Israel, Gaza and the West Bank at the Rambam Hospital Children's Ward.
J'lal Safri, Head of the Ministry of Education's Youth Department, who gave a moving speech about the concept of Ahavat Adam (love of human beings), expressed his concern about allowing extremists to have such an influence over our lives and that we need to give a "contra" to show all the good that is going on here. Safri also expressed his appreciation of President Reuven Rivlin's agenda to promote coexistence and social cohesion in Israel.
Victor Zakak, an attorney active in the Christian Orthodox Community who volunteers with Arab and Jewish youth in Jaffa.
The Community Leadership Team at Leo Baeck's Clore Shared Existence Center, part of Haifa's University's Flagship Program, for the establishment and development of the Ein Hayam Trail, a model for interfaith and intercultural cooperation in the region.
Mayor Yair Revivo of the City of Lod, who has received considerable praise for his City's infrastructure projects, some of which are focused on Lod's Arab neighborhoods.
Following the awards ceremony, the Leo Baeck Ruth Center's Playing Cultures Youth Musical Troupe performed an original song composed by its Arab and Jewish musicians.
The afternoon program included three optional tours: an excursion on the Ein Hayam Trail; a visit to the Holiday of Holidays Gallery at Beit Hagefen; or a special tour of the Baha'i Gardens, Temple and Archives.