The Leo Baeck Middle School is a public school under the auspices of the Haifa Municipality. Today it boasts a diverse student body of 900 students in the 7th through the 9th grades. The school is comprised of native Israelis, new immigrants from Ethiopia and the FSU, and a growing number of Druze children from Haifa's neighboring towns of Daliat El Carmel and Isfiya.
The Middle School is built on the foundations of excellence in education, community responsibility, and meeting one another's needs. Sensitive and responsive to the needs of immigrants and minority populations, principal Rabbi Ofek Meir has introduced academic, social, and cultural support programming into all of the school's classes. With integration and tolerance at its core, the Middle School offers programs for mainstream, gifted and PDD (autism spectrum) students. The School also hosts the following unique educational programs: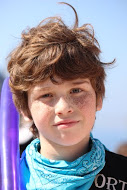 Gifted Students – The Leo Baeck Middle School hosts the City of Haifa's gifted student program. The program utilizes the official curriculum of the Ministry of Education for gifted students. In addition, students in the gifted program who excel in mathematics have the option of participating in an additional mathematics enrichment course developed by Columbia University.
Scientific & Technological Leadership – This 6-year national program designed by the Ministry of Education is aimed at developing the State of Israel's human capital through the expansion of science and technology studies to students who excel in the sciences. The program broadens and deepens students' knowledge of mathematics, physics, computer science and the general sciences, and includes visits to Israel's prominent research and technology institutions.
Excellence in Mathematics – A component of the Scientific & Technological Leadership Program, Excellence in Mathematics provides accelerated enrichment classes designed to further develop mathematical thinking skills. This program was developed by the Israel Center for Excellence in Education ("Excellence 2000").
Excellence in the Arts – This 3-year program is designed for talented students in music, visual arts and theater. Following an audition process, 20 female and male students are selected each year to participate in this dynamic and diverse program that combines practical studies with experiential activities and includes visits to theatrical performances, concerts and art exhibitions throughout the country.
Mathematics Support – This program is intended for students who have difficulty in mathematics and aims to support them to the greatest degree possible. The curriculum was designed by the Ministry of Education and teaching materials are developed by the Mathematics Education Unit of The Hebrew University of Jerusalem.
Special Needs Program – The Leo Baeck Center is the only institution in the north of Israel that integrates Autistic Spectrum Disorder (ASD) students into its mainstream education system. In addition, our special needs program works with students in the Middle School who require additional educational services and support.