Beit Ligdol Tov ("A House to Grow Up Well In") is an early childhood developmental and enrichment center established by the Leo Baeck Education Center in 2001. Roughly half of our participants are immigrants from the Ethiopian community and the Former Soviet Union and the other half are Native Israelis from lower socio-economic families.
The mission of Beit Ligdol Tov is to ensure that children from financially distressed homes are afforded the head start in life they so desperately need and deserve. Our goals are to: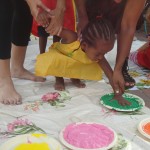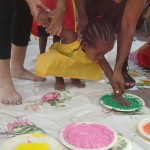 Provide a safe and warm, yet stimulating environment for children and their parents;
Instill outstanding social and life skills in all participants, thereby facilitating better familial relationships and easier integration into the Israeli school system and Israeli society; and
Ensure that parents are aware of the social and educational requirements for elementary school and the transition to first grade in particular.
600 children and 350 parents participate in Beit Ligdol Tov programs:
Moms Together – Weekly meetings of mothers and their children from birth to 3 years of age.
Empowerment Group for Mothers – For women who come to Beit Ligdol Tov for assistance in coping better with their growing economic and social challenges.
Kabbalat Shabbat – These fun afternoons encourage kids to welcome Shabbat with arts and crafts, cooking, music, and group activities – culminating in a warm, family atmosphere and a celebratory family Shabbat experience.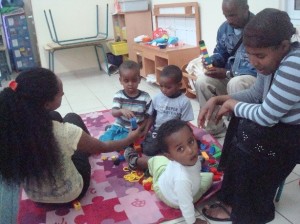 Individualized Enrichment – The individual observation of each child by our professional staff helps identify each child's strengths and challenges.
Community Events and Receptions – The Beit Ligdol Tov community joins together to celebrate the High Holidays, Chanukah, Tu B'shvat, Family Day, Purim, Passover, Lag B'Omer, Shavuot, graduation and the commencement of summer. These programs aim to enrich and strengthen our participants' cultural values, including Zionism, Israeli holidays, and festivals celebrated by the Ethiopian community. During these events, we emphasize values such as social justice, Tikkun Olam and multiculturalism.
Birthday Parties – Our birthday parties provide an opportunity for children who cannot afford a party of their own to celebrate their special day.
Summer Programming – Our summer programs include a variety of enrichment activities for the whole family. More than 700 children and adults participate in music classes, Judo, gymnastics, theatre, sense & experience, and circus activities. All activities are offered free of charge or at a nominal fee.
The First Grade Readiness Program – Children whose parents cannot speak, read or write in Hebrew get linguistic enrichment through stories, songs and images. In addition to providing the children with a fun, yet intensive, preparation for first grade, this program instructs the parents about the social and educational requirements for entry to school in general, and the transition to first grade in particular. Volunteers and older students help to reinforce reading skills and the love of reading books for pleasure.
Didactic Workshops – These workshops cultivate and realize the potential for learning and development of participating children. They help foster curiosity, inquisitiveness, as well as internal security. They also enable our staff to identify behavioral problems and parental disciplinary issues, and to teach parents how to stop undesirable behavior without harming their child's body and/or personality through the introduction and reinforcement of alternative disciplinary measures.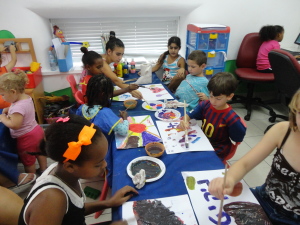 Afterschool Programming for Elementary School Children – NEW! Beit Ligdol Tov is currently developing an afterschool program that will build on the skills the children developed during their preschool years at our facilities. This will include homework assistance, a "Big Brother" program, sports clubs, dance and art classes, and a variety of other enrichment activities that will be available until 7 pm throughout the week.