The Clore Shared Existence Center is located in Haifa's Arab-Jewish neighborhood of Ein Hayam/Wadi El-J'mal. The Ein Hayam neighbourhood has 2,800 residents, 55% Arabs and 45% Jewish (of whom 10% are Ultra-Orthodox). Founded in 2003 with the generous support of The Clore Israel Foundation, this is only cultural centre in Ein Hayam. Supported by the municipality, it is open throughout the week, 12 months of the year and assists over 300 community members of all ages per week. Every event organised also attracts hundreds of people.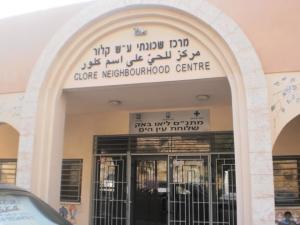 The Center opened in 2003 with the goal of providing the Arab and Jewish residents of the neighborhood with new opportunities and improved community relations through high quality, low cost educational, cultural and social services.
The accessibility and openness of the staff, alongside the steering committee comprised of residents, contribute to the success of bringing Arabs and Jews together to participate in the Centre's activities and programming. Working with religious leaders and ensuring that every group has an equal voice also builds essential trust.
The Center does not offer lightweight programs that pay lip service to Arab-Jewish co-existence in Israel; it conducts serious, deep and meaningful work that has the power to change Israeli society:
The Ein Hayam Trail. This award-winning community renewal project entertains visitors and educates them about the historical significance of the area, fosters cross-cultural dialogue, promotes small business development, and connects Ein Hayam/Wadi El-J'mal to the larger Haifa business and tourism world. It also includes the only Arab-Jewish Community Garden in Israel. [READ MORE]
Women's Group. The women of Ein Hayam/Wadi El-J'mal are encouraged to step beyond their traditional roles, acknowledge their value as individuals, and become proactive in community development.
Programming for the Haredi community. The Clore Center is building bridges with the community's Orthodox Jewish population. Our facilities are now being utilized by the area's Haredi community for arts & crafts, cooking, dance, computers and a women's late-night exercise class.
Youth Activities. Middle and High School programming and youth clubs provide positive and productive experiences for young people in the neighborhood.
Sunday School. 30 Arab students come to the Center on their day off from school to attend enrichment activities while their parents are at work.
School Holiday Programming. Jewish and Arab children meet at the Clore Center on school holidays for fun and engaging programming.
Study Center. A study center staffed by university students and community volunteers provides homework assistance for the Center's children and youth.
Afterschool Programs. A wide range of afterschool programs provide children with athletic and music activities and expose them to science programs including robotics and medicine.
Senior Citizens' Club. Arab and Jewish seniors who are in need of comfort and companionship meet regularly at the Center for senior exercise, chess, handcrafts, traditional music and dance, computer instruction, day trips and lectures.
Community activities. An adult story time program attracts a full house, as do joint Arab-Jewish community birthday parties for Clore Center members. The Center also sponsors dual narrative field trips to sites throughout the region.
Advocacy. In addition to advocacy with municipal bodies on behalf of the community's needs (e.g., better public transportation in the neighborhood), connections are being made with local public and private schools, to show Israeli schoolchildren a positive example of true shared existence in action.
Since its establishment, the Clore Shared Existence Center has undisputedly changed lives, attitudes, stigmas and stereotypes. By creating opportunities for all and by opening minds, hearts and doors, it has succeeded in bringing children, youth and adult residents of this mixed community together in pursuit of individual and communal improvement.
Although the Arab and Jewish residents of Ein Hayam are the direct beneficiaries of Clore Community Centre, the full impact and its clear message of shared existence resonates far beyond the neighbourhood. Since its establishment, the Clore Centre has changed lives, attitudes, and stereotypes. By creating opportunities for all and by opening minds, hearts and doors, in brings children, youth and adults together in pursuit of individual and communal improvement–individuals who previously may never have felt anything other than fear and hatred for each other.