Leo Baeck attends to the academic, social, emotional and therapeutic needs of  students on the autism spectrum ages 13 to 21, and provides training in the areas of life-skills and employment. These students come from Jewish and non-Jewish homes in Haifa and its surrounding cities. Each year, our program serves 80 special needs students in eleven of Leo Baeck's junior and senior high school classes; they attend academic classes structured according to their academic needs and  attend mainstream classes where suitable.
Each student's academic progress, personal development, emotional needs and well-being are attended to by a dedicated and committed team of educators, facilitators and therapists. Our special needs faculty consists of a team of 25 special education teachers, 30 educational facilitators, and 6 specialist therapists who empower their students and help to develop their independence and self-reliance. The main goal of the program is to assist students in functioning well within their family, social-circle, community, work environment and in society as a whole.
In addition to the academic classes, the Special Needs Education Program has a variety of unique supplementary and complimentary programs initiated and developed by the Special Needs Faculty in order to enhance and boost the students' overall learning experiences.
Life skills training apartment – A residential apartment located in close proximity to the school has been used on a daily basis for the past seven years by the various Special Needs Education classes as a life-skills training apartment. Here a fundamental component of the program is put into practice – the development of life skills and independent living. Students are taught and practice household skills such as cooking, cleaning, laundry, household repairs, shopping for groceries, household budgeting, and hosting and interacting with guests.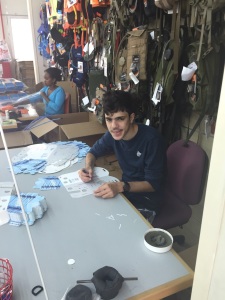 Vocational workshop – A large room located at The Leo Baeck Education Center's main campus serves as a vocational workshop where students design, produce and sell arts and crafts. They learn good work habits, engage in employer-employee relations, and learn first hand about work related concepts such as meeting targets, deadlines and quality control.
Computer training – Many of our special needs students are suited to software programming and design because of its systematic and routine nature. Through computer training lessons, students are guided and trained in the skills necessary to become productive, contributing members of the work force.
Therapy rooms – The Leo Baeck Education Center houses art therapy, music therapy, drama therapy, speech therapy, bibliotherapy and occupational therapy rooms.
Therapeutic agricultural greenhouse – A 60 sq m greenhouse enables students to engage in practical botany learning (the processes of growth, seeding and sprouting) and also to develop their motor skills (gross and fine) by having them work with tools and develop skills necessary for successful gardening, plant growth and harvest.  It also teaches them how to better use their communication skills and partake in teamwork.
Hydrotherapy pool – The Leo Baeck Education Center's Sports Complex has an indoor therapeutic pool where our students come for weekly swimming lessons that help them relax and improve their motor skills.
National Special Olympics – Our special needs students complete in swimming and basketball at the National Special Olympics. Weekly training sessions with coaches take place at the Leo Baeck pool and basketball courts. Students are equipped with uniforms and participate in four annual competitions.
"Deep in my Heart" Diving Club – In conjunction with the Haifa Rotary Club, a professionally lead diving course for autistic youth takes place at the Leo Baeck pool. Students meet once a week to train with professional diving instructors who volunteer their time to empower the students through teamwork, trust and communication.  At the end of the course the students travel to Eilat where they receive their diving certificate.
The "Buddy" Club – The Buddy Club is a social club for people with PDD, PDD-NOS and Asperger's. The club consists of approximately 40 people between the ages of 14 and 45 who  meet at the Leo Baeck Community Center.  All meetings are facilitated by trained staff at the Community Center.
Bar/Bat Mitzvah Program – Leo Baeck's Congregation Ohel Avraham offers a fully subsidized Bar/Bat Mitzvah program for youth with special needs.
"Etgarim" Outdoor Training Program – This is a year long program where our students participate in various outdoor extreme sports and nature treks. The purpose of this program is develop motor skills and fitness and to enhance participants' self-confidence, trust, and ability to work as part of a team. We are currently seeking funding to create an outdoor training park at the Leo Baeck Main Campus.
Leo Baeck is an Equal Opportunity Employer – A number of Leo Baeck special needs program graduates are now full time employees at our campus as administrative assistants, library monitors and more.
Special Needs Program Partnerships
Haifa University, The Technion, Rambam Hospital and the IDF invite our special needs students to come to their facilities to assist with administrative tasks and to enhance the students' vocational skills.
The funding requirements of our Special Needs Program far exceeds the limited amounts provided by Israel's Ministry of Education. Consequently, additional funding from donors is sought on an ongoing basis.