Developed in cooperation with the Clore Shared Existence Center and Haifa University's Department of Geography and School of Tourism, The Ein Hayam Trail includes historical and nature outings, visits to fascinating archeological sites, and guided architectural tours. The project's ultimate goals are to provide economic opportunities and increase community pride in an Arab-Jewish neighborhood.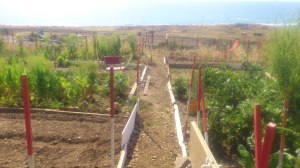 Ein Hayam is a small neighborhood in Western Haifa, overlooking the Mediterranean Sea. It has a diverse population of approximately 2,400 Arab and Jewish inhabitants, both religious and secular.
Only a few years ago, this neighborhood lacked municipal infrastructure and services, and tensions were growing amongst its complex and diverse populations. A group of Ein Hayam residents, part of an ongoing entrepreneurial group that worked together with the Clore Shared Existence Center staff, decided to bring positive attention to their community through a series of projects aimed at small-business development, youth leadership, civic coalition-building and beautification of their neighborhood. The group also found that the mixed nature of the Ein Hayam neighborhood offered great opportunities for cross-cultural dialogue and cooperation.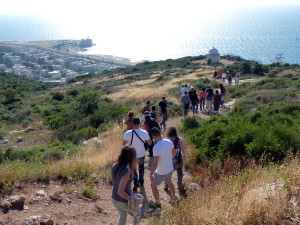 The entrepreneurial group established the Ein Hayam Walking Trail in order to develop the neighborhood culturally, socially, educationally, environmentally, and financially.
The Trail:
Promotes intercultural encounters between Jews and Arabs in the neighborhood
Serves as a tourist attraction that both entertains visitors and educates them about the historical significance of the area
Connects Ein HaYam to the larger Haifa business and tourism world
Stops have been developed along the trail as stand-alone attractions, including a Community Garden and an Artists and Farmers Market.
In 2013 the Ein HaYam Trail received the "Best New Entrepreneurial Project Award" from the National Association of Community Centers. This program has created a sense of community cohesion and pride in the neighborhood, encouraging residents to work together on a shared goal and serving as a model for interfaith and intercultural cooperation.
To schedule a tour please contact us: Sun-Thu, 16:00-21:00, Tel. +972-4-8554392