The Leo Baeck Education Center was founded on the principle that all of Israel's citizens are entitled to equal rights and equal opportunities. Our focus is on sharing experiences and loving our neighbors regardless of their religion, mother tongue, race, or cultural background.
Co-existence is not enough for us at Leo Baeck—we are committed to shared existence. This means more than just living side by side and merely tolerating each other. Here in Haifa, we live together. With this vision in mind, Leo Baeck conducts shared existence activities and social outreach programs in conjunction with Haifa's Arab community aimed at increasing opportunities for frequent and meaningful contact, closing social gaps, and eliminating the stereotyping and lack of understanding prevalent among both Jews and Arabs.
Our commitment to shared existence is evidenced by the multitude of programs that we sponsor as well as the international peacebuilding programs in which we participate:
Young Children and Parents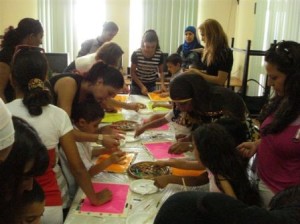 The Sauwa Center is a childhood development and therapeutic center for at-risk Arab families, that also sponsors a variety of shared existence programs for young children and their parents.
The Cultural Rainbow program is a shared existence program in Arabic and Hebrew that introduces Jewish and Arab Kindergartners to multicultural openness, cooperation, and positive communication.
Elementary and Middle School Students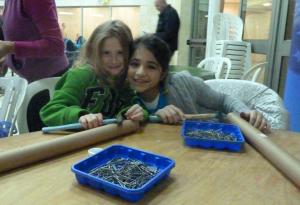 Every summer, 100 Jewish and Arab children ages 6-11 come to the Leo Baeck Arab-Jewish Summer Camp for a variety of shared activities, including arts & crafts, theater, sports, music, fields trips and programs that promote cross-cultural understanding.
The Interfaith Peace Drums Project pairs Leo Baeck with the Mar Elias School in Ibillin and promotes peace among Jewish, Muslim and Christian youth in Israel through the medium of music.
High School Students / Young Adults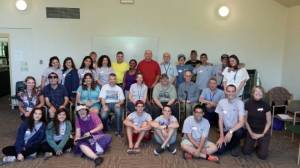 Leo Baeck students are regular participants in The Friends Forever Project, a program in the U.S. that builds trust, empathy, and friendships among cultures in conflict.
The Yachad Program enables Leo Baeck high school students and youth from Yarka, a Druze town situated in the Lower Galilee region, to partake in joint community service activities and cross- cultural events prior to their enlistment in the IDF; one recent activity was a joint visit to wounded Syrian refugee children being treated at the Western Galilee Hospital in Nahariya.
The Youth Parliament is a leadership development program funded by The Citizens' Accord Forum (CAF), USAID and the Office of the Prime Minister, that trains and empowers Arab and Jewish high school students living in four of the country's mixed Arab-Jewish cities to work together to improve their own lives and the lives of their entire communities.
This past summer, four Leo Baeck students participated in the "Space to Breathe" inter-cultural/inter-faith conflict transformation event in Ireland for youth who live in areas in conflict.
Family and Community Programs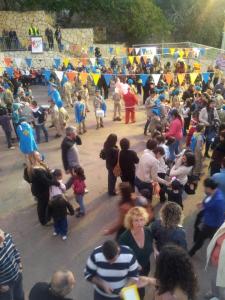 The Leo Baeck / Haifa University Flagship Program for Combating Exclusion and Promoting Social Solidarity is an innovative partnership with the University of Haifa designed to nurture social inclusion in multicultural communities.
The Clore Shared-Existence Center provides low-cost, high quality shared existence enrichment programs, activities and community-wide multicultural events for Arab and Jewish children, teenagers and adults.
The Ein Hayam Trail is a community renewal project centered around a walking trail through Ein Hayam, one of Haifa's Arab-Jewish neighborhoods.
Holiday of Holidays is an annual community celebration of Christmas, Chanukah and Eid al-Adha (Fast of the Sacrifice).
Sukkat Shalom ("Sukkah of Peace"), high holiday activities, performance, arts & crafts, music and other get-togethers and festivities for thousands of community members of all religions and denominations that is held each Fall at the Leo Baeck Main Campus.
Note that all of children's afterschool, summer camp, adult and family programs at Leo Baeck's Community and Sports Center and eight satellite centers are fully integrated.
Because of its demographic makeup and its commitment to the ideals of coexistence, Haifa has the potential to become a model city for shared existence in the Middle East. It is our hope that the next generation of Jewish and Arab Israelis will not only live together, but also work together to build a more pluralistic and tolerant Israel.