Playing Cultures unites three distinct and otherwise separated communities under the universal vernacular of music.  Jewish, Christian and Muslim youth come together to hear, share, and co-cultivate their understandings of music, combining their individual cultural backdrops to create one unique and all-encompassing sound.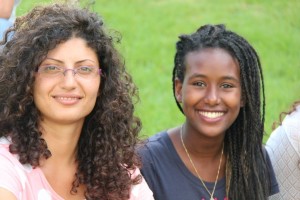 Playing Cultures serves as a platform upon which to foster Leo Baeck's core initiative: to create a community of pluralism, shared existence, and the realization of peace. A group of 20 youth meet once a week to create and rehearse musical compositions which integrate influences from their respective communities. The program provides a safe, positive environment for students to learn and develop life skills outside of the classroom and an outlet for creativity and socialization.
By approaching youth through the lens of music, Playing Cultures establishes a unique opportunity to transcend cultural barriers by catering to a passion for music and creativity inherent in everyone.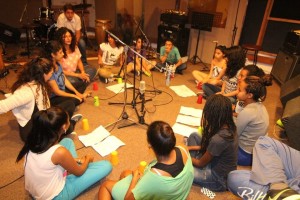 The Playing Cultures Music Troupe is comprised of teenagers from throughout the City of Haifa.  Their backgrounds are varied: Native Israelis (Jewish, Christian Arab and Muslim Arab), rehearse with immigrants from Ethiopia and the Former Soviet Union on a weekly basis for a 3-hour rehearsal at either Mercaz Ruth in Haifa's Sprinzak neighborhood or the Clore Center in Haifa's Ein Hayam neighborhood. Students are taught the fundamentals of reading music, playing instruments, and performance techniques. In addition to their training and performances, Playing Cultures participants attend concerts at the Haifa University to introduce them to diverse musical influences and promote accessibility to higher education.
There is a strong connection between all the performers as well as a sense of professionalism and commitment to the troupe.  The troupe not only practices songs in their existing repertoire, they also create material of their own.
Music is like magic….this is the reason why it is such a fantastic tool in creating a peaceful environment and where people can express themselves with no racial, political or linguistic barriers.  The dream is to expand and take this project on tour abroad and be ambassadors for shared existence and for the good of Israel. Rana, Playing Cultures Music Director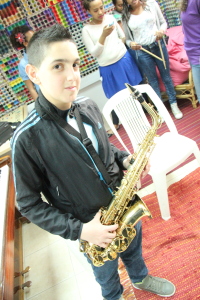 When we asked the players about their feelings of being in a mixed Arab and Jewish troupe, one musician answered: "The music naturally binds us together and all other barriers simply do not exist."
These talented young musicians have performed for a wide variety of audiences throughout the City of Haifa, including at the inaugural ceremony for the Ein Hayam Trail, with Elias Julianus at the Clore Shared Existence Center's "Spirit of Mimouna" program, at a hostel for the mentally disabled, at the Ein Hayam Community  Park, for the Flagship Program for Leadership Development's end-of-year  party at the University of Haifa, and at various City concerts and outdoor events through the Haifa Municipality.
The Troupe's Musical Repertoire
When the troupe was formed, its members realized the need to create some original material. They began by composing the song "Just Be You," which communicates the need to remove our masks and defenses, to take on the challenge of just being you with the people around you:
All I see in front of me is a room full of people and only a few understand life.
Chorus: I want to see the world without masks, where everyone stands in front of mirrors without complications and discourse.
Don't surrender to society be who you are and believe… in yourself!!!
Waking up to the pouring rain, trying to decide which role to play.
I resent this mask I wear, but why do I even care?
So come and join me seeking the truth as a journey.
Trust me, this will all be worth it at the very end.
Other songs performed by the band include: The Cup Song, Imagine + Knocking On Heaven's Door, Price Tag + I'm Yours, Just Be You (original song), Besame Mucho, Perhaps, Perhaps, Perhaps, Speak Softly Love, I Miss You, Mix – Maroon 5, Chag Purim (The Purim Holiday) – a special adaptation for troupe performances, Ani Purim (I am Purim) – a special adaptation for troupe performances, and Ahalan Wasahalan (Hello and Welcome).