The word "Yeda" in Hebrew means "knowledge", and the acronym YEDA stands for: Knowledge, Derech Eretz (kindness and respect), and empowerment.

The YEDA educational project was initiated by the Leo Baeck Education Center to show that demography does not define destiny for children from low-income backgrounds.  Inspired by the KIPP model in the United States, The YEDA School enables disadvantaged children to reach their full potential by delivering an enhanced educational experience.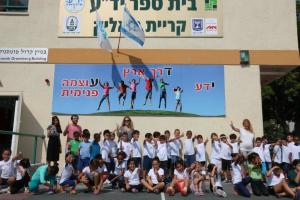 KIPP has been extraordinarily successful in providing a top-notch education to tens of thousands of children from disadvantaged families in the U.S. KIPP operates internationally through the One World Network of Schools organization, whose mission is to eradicate educational inequity globally. T1W is working in Israel with YEDA to help fulfil its vision and mission of closing the educational gaps in the social and economic periphery of Israel.
On August 27, 2013, the first YEDA School opened in Kiryat Bialik. In the Fall of 2015, our second YEDA school opened in Petach Tivkah and in the Fall of 2016 we intend to open two new schools in Beersheva and in the Arab town of Shfar'am.
YEDA enables disadvantaged children to reach their full potential by delivering an educational experience with an extended school day, a focus on results, and an investment in the school leadership, while still adhering to the state curriculum and providing an enriched educational, cultural, social, and Jewish experience.
Our current focus is in making these values and ideals a significant part of the school's culture, and implementing them as guiding principles in our students' learning and behavioral environment. In all aspects of the YEDA program we focus on innovative teaching methods, using technology in the classroom, and preparing our students for a successful and happy life outside school.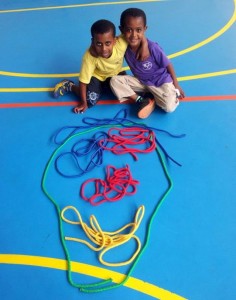 The uniqueness of the YEDA School is expressed in several ways:
Small class size in comparison to other public schools (25, as opposed to the typical 35-40 students per class)
Extended school day (until 4:00 p.m.) and an extended school year, with a shorter summer vacation
A hot lunch for every student
A team of additional teachers, teaching assistants and tutors who support the main classroom teachers throughout the day
A highly structured "tough love" approach
Small group enrichment classes for students who require additional academic support, as well as an accelerated program for students who are excelling at their studies
Private tutoring for students with academic difficulties
Use of computers in class for pedagogical needs
Emotional and psychological treatment for those who need it
A "Commitment to Excellence" contract between the parents, students, and school staff
An educational program that promotes social improvement and values; and includes lessons in music, arts, physical education, cooking, archaeology, agriculture, Jewish education and Jewish identity
Social services for students and their families through a school counselor and a municipal child psychologist; additional support for underachieving students through the local Department of Education's Special Needs Division; a social worker who works with families that are struggling financially; and assistance from Yad Rachel, an organization that provides emotional support for children in need
 YEDA Students
There are 148 students currently enrolled at YEDA-Kiryat Bialik including 42 third-graders, 54 second-graders, and 51 first-graders.  YEDA-Petach Tikvah has 200 students. 30% of the students at YEDA-Kiryat Bialik are children of Ethiopian immigrants from the rural Falashmura tribe. Many of the Ethiopian parents are illiterate in their native language and speak little Hebrew; for this group, the gap between home and school is the greatest. 40% are children of immigrants from the Former Soviet Union (particularly the Caucuses) and the remainder of the students come from working poor families who have been living in the neighborhood for several generations.
YEDA Staff
YEDA school leaders are handpicked by the YEDA leadership, the city municipalities and the ministry of education. They undergo extensive training both in Israel and in the United States led by the One World team and the University of Haifa. Our teachers complete their professional development training at the University of Haifa, where they also participate in workshops that focus on team building and collaboration.
Moving Forward
Our plan is to expand the YEDA-Kiryat Bialik school by adding one grade of 50 students each year, divided into two classrooms. We currently have a commitment from the Municipality to enlarge the school to the 6th grade, but our shared vision is to expand the school beyond the elementary level and eventually provide KIPP-inspired education through grade 12.
The YEDA-Petach Tikvah School took over an existing elementary school. The YEDA curriculum was fully implemented for the school's first graders, while the older children are exposed to as much of the YEDA curriculum as possible.
We are making efforts to expand the YEDA network to 25 YEDA schools in Israel's most underserved communities.  The Leo Baeck Education Center looks forward to seeing the growth of the YEDA School Network and to reporting its impact on students, their families, and the community at large.