On Wednesday, June 24th, Leo Baeck General Manager Dani Fesler and YEDA-Leo Baeck CEO Eran Dubovi traveled to Beersheva for meeting with key players in the opening of a new YEDA-Leo Baeck in the City of Beersheva.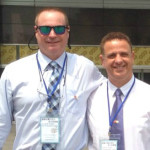 Ben Gurion University President Rivka Carmi was very interested in the positive impact YEDA-Leo Baeck is having on its students in Kiryat Bialik and on the success of the KIPP educational philosophy in general. She presented some exciting University projects that that may be implemented in conjunction with a YEDA school in the area. The University will be a partner in the school's pedagogical efforts and will provide hands-on student support. In addition, YEDA-Leo Baeck students will have the opportunity to participate in Ben Gurion University's programs for elementary schoolers.
Fesler and Dubovy later met with Dr. Heftzi Zohar, the Beersheva's Deputy Mayor in charge of education in the City and Beersheva Superintendent of Schools Zehava Harel. At this meeting, it was established that YEDA-Leo Baeck will open a school in Beersheva in September of 2016. This is a tremendous achievement and we are thrilled to be expanding to Southern Israel!
Stay tuned for updates on the opening of the newest YEDA-Leo Baeck school in Petach Tikvah this upcoming Fall.