For the first time in history, Europe's biggest Jewish sports event is taking place in Germany, and the Leo Baeck Education Center's High School Basketball Team has been honored to be part of the Israeli delegation.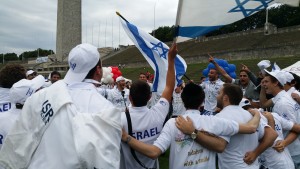 The theme of this year's event is "Competing in Sports – United at Heart." German President Joachim Gauck presided over the opening ceremony with more than 2,000 Jewish athletes from 37 countries participating.  The ceremony took place on July 28, 2015 at the "Waldbuehne," a stage in a forest which is part of Berlin's Olympia Park.
This year's Maccabi Games in Berlin marks more than one historic moment: 70 years since the liberation of Auschwitz, 50 years of Israel-German relations, and 50 years since the host organization of the Games, Makkabi Deutschland e.V., was re-established after World War II.  History buffs may also be interested in viewing an historical timeline of the Maccabi Movement which can be found on the European Maccabi Confederation website.
Throughout the week, we will provide updates on our team's activities at the Games. In the meantime, see this video produced by Germany's international broadcaster "Deutsche Welle" following its visit to Leo Baeck before our athletes departed for Germany.
Leo Baeck would like to take this opportunity to thank all of our supporters who have helped make our team's participation at the European Maccabi Games possible.