The Leo Baeck "Ultra Basketball Team" has returned home following an exciting and enlightening trip to Berlin.
We last reported that the Leo Baeck High School Basketball Team had qualified for the finals at the 14th Annual European Maccabi Games. Both our 10th-11th grade and 12th grade divisions faced off against the U.S in the final round.
Cons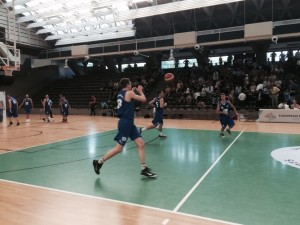 idering the high caliber of all competitors (especially the U.S. players), our disappointment at having lost the final round of the Macabbi Games was short lived. Arie Buk, Manager of Sports Achievement at the Leo Baeck Community Center, said that he was very pleased to see Leo Baeck students participate in such an historic event and that our players had many memorable experiences during their time in Germany.
The players and the four trainers that accompanied them count the following as highlights of their trip:
Playing basketball with young Jewish athletes from the United States, Argentina, Turkey, Germany and the United Kingdom
The Maccabi Games Kabbalat Shabbat Service, which was attended by more than 2,000 young Jewish athletes from throughout the world
Visit to a concentration camp
Tour of Berlin
Meeting with Israeli musicians and artists, and an expatriate Israeli restaurant owner in Berlin.
On the last day of the games, our athletes participated in the time-honored tradition of exchanging uniforms with players from other countries.
We at Leo Baeck are very proud of all our young athletes and look forward to continuing to see them develop their skills in years to come.