On Wednesday, February 17, Leo Baeck Community Center Director Yoav Yagol had the great honor of meeting with President of Israel Reuven Rivlin at the President's House in Jerusalem.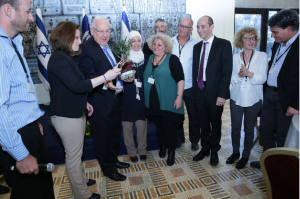 President Rivlin invited the leadership of the Israel Association of Community Centers (IACC) to present exceptional programs that personify the power of community centers to advance the President's vision of enhancing multicultural partnerships between the various sectors of Israeli society.
The IACC chose seven out of Israel's 180 Israeli community centers to participate in this event, and asked two community center directors to each give a presentation to the President. Yoav Yagol was selected as one of the two.
Yoav introduced the Leo Baeck Clore Shared Existence Center and the Ein Hayam Trail project, a community tourism initiative in the mixed Arab-Jewish community of Ein Hayam / Wadi El-J'mal. He spoke about how the Clore Center and its remarkable programs promote dialogue between Arabs and Jews, and improve the overall quality of life of neighborhood residents – socially, culturally and financially.
President Rivlin has repeatedly stated that building trust between Jews and Arabs should be the mission of everyone who cares about this country. He emphasizes that trust is "the key to our existence here, to our future and to our fate."
Yoav said that it was a great honor to meet with President Rivlin: "He is kind, personable, and a true man of the people."