We would like to begin the new Leo Baeck blog by sharing with you some highlights of an event honoring the extraordinary Rabbi Dr. Bob Samuels which took place at Leo Baeck on December 15, 2014.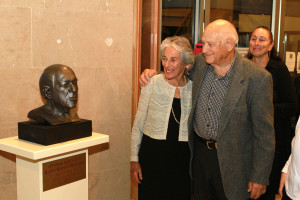 Rabbi Samuels was the second general manager of the Leo Baeck Education Center and served the institution from 1974 through 1999. He later served as Chairman of the Leo Baeck Board of Directors. Rabbi Samuels is credited with new innovations in Jewish learning in the Leo Baeck schools, as well as with the opening of the Leo Baeck Community Center and the Allan Offman Sports Center.
The December event celebrated Rabbi Samuels' 80th birthday and his many decades of dedication to Leo Baeck. Hundreds of our institution's current and former teachers, students (including a prominent figure in Israel's Ministry of Education), and community members had the opportunity to share the significant impact that Rabbi Samuels has had on their lives and on Israeli society as a whole.
The event featured images and discussions with family members, friends and colleagues about the remarkable contributions that Rabbi Samuels has made throughout his lifetime. He was honored for his unceasing commitment to Tikkun Olam, love of Israel, and for his commitment to both society and family. Representatives of the Druze community also came to honor Rabbi Samuels for establishing an educational institution that is welcoming to all and which places primary importance on understanding, tolerance and acceptance of the other.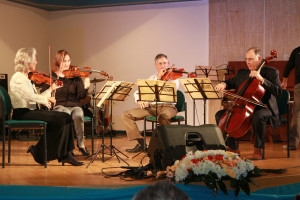 Attendees also enjoyed numerous musical performances, including a demonstration of the Peace Drums by Leo Baeck elementary school students, a string quartet comprised of Rabbi Samuel's wife, Annette and their three children, and a performance by Leo Baeck's Arab-Jewish "Playing Cultures" musical troupe.
Rabbi Samuels made the Leo Baeck Education Center what it is today. We are forever grateful for his lifelong dedication and contributions to the development of Leo Baeck, one of Israel's premier educational and social institutions.
View more photos of the event here.