On October 27, 2015, we were honored and delighted to host the Alyth Youth Singers (AYS) from the Alyth Synagogue in London UK, at the Leo Baeck Education Center in Haifa.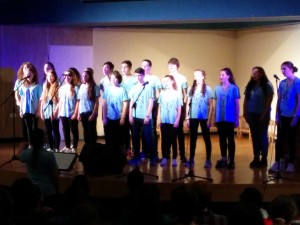 After getting to know some of our students and Young Ambassadors who participated in Alyth's Summer Madness camp, the 25-member AYS choir delighted our student audience with their virtuoso performance of Jewish prayers and English popular songs. They were followed by Leo Baeck's Carmelim Singers who performed a repertoire of Israeli songs. In the finale, the AYS and Carmelim choirs filled the stage with a spirited joint performance of "Hallelujah."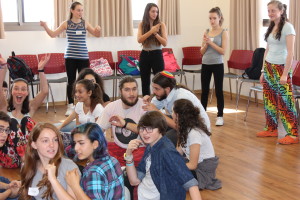 Rabbi Oded Mazor, Elementary School Rabbi and Head of UK Relations was the master of ceremonies and explained the warm and long-standing partnership between the Alyth congregation and the Leo Baeck Education Center.
In the afternoon the AYS youth met members of Leo Baeck's "Playing Cultures" Arab-Jewish Music Troupe and their director Amir Avraham, at the Ruth Center for some fun and creative activities.
The AYS visit was organized by Viv Bellos, musical director of the Alyth choir for the past 35 years who mentioned that this was her final performance tour in Israel before retiring this year. The performance was conducted by Katie Hainbach, the new AYS choir director, with piano accompaniment by Lewis Fisher. The musical director of Leo Baeck's Carmelim Singers is Maya Sigal.