On Yom HaShoah, "Holocaust Remembrance Day" (27th Nisan / May 24), the Leo Baeck Education Center community commemorated the lives and heroism of the six million Jewish people who died in the Holocaust between 1933 and 1945.
Students participated in a memorial assembly and through music, song, photos, readings, and testimonies, honored those who perished in the Holocaust and the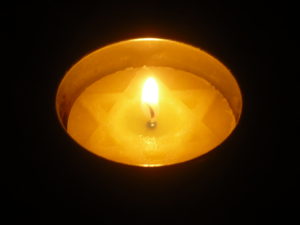 determination of those who survived and raised a new generation that proudly continues our heritage. Rosi Ben Yaakov, retired Leo Baeck High School English teacher and former head of German Relations in the Department of Development and International Affairs, shared the story of her family's suffering and struggle to survive in Poland during World War II, and its effect on the second and third generation, with students in classrooms and in an intimate salon gathering in Ohel Avraham Synagogue's Beit Midrash.