On Wednesday, June 10th, Leo Baeck was pleased to host a visit from the senior class of the Adelson School in Las Vegas.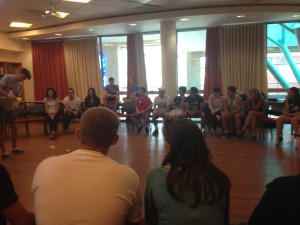 The American teens joined Leo Baeck High School students for a morning of activities and workshop with Rabbi Gabi Dagan on national identity and the role that religion plays in the lives of young people.  The students were given the opportunity to ask each other some very challenging questions about army service, politics and Israel's image in America.
"It was a lot of fun getting to hang out with the Israeli kids. There is never enough time to ask all of the questions we want to ask… we could be here for days!" Adam, Adelson High School student
After a pizza lunch, the Adelson seniors went sailing at Haifa's Hof Hashaket ("Quiet Beach"), which was arranged by the Leo Baeck Education Center.