We are delighted to announce that Leo Baeck's University Leadership Training Program (ULTP) is now underway, with 10 promising young Ethiopian-Israeli women participating in 2015-2016.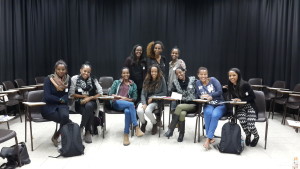 The second training session for the group took place on December 3, 2015, and focused on the subject of community engagement and social entrepreneurship. Participants learned techniques for accessing their "inner treasures" and how to translate those treasures for the benefit of the community.
Project coordinator Gili Fogel stated that the atmosphere at the session was amazing, fun and empowering for future young leaders, each of whom is "simply stunning – inside and out!"
We will continue to update our readers on the progress of this remarkable group of young leaders.  In the meantime, you can read more about the ULTP program here.