The Group Bar/Bat Mitzvah Program, created last year by ULTP participant Aviva Tedesa, is a special program for boys and girls from disadvantaged families in Western Haifa.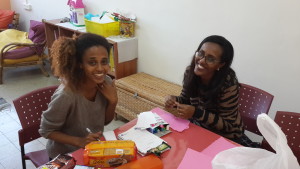 Every year Leo Baeck's University Leadership Program provides up to 18 young Ethiopian-Israeli women with the skills and opportunities to take an active role in becoming the next generation of Ethiopian-Israeli leaders.  In addition to bimonthly leadership training workshops, every ULTP participant performs at least six hours per week of community service and initiates, develops and leads a social action project with the support of Leo Baeck staff.
ULTP Group Bar/Bat Mitzvah Program for Disadvantaged Youth is a journey of personal and social identity formation and teambuilding; four community service projects help Bnei  Mitzvah develop a sense of belonging and commitment. Last year an extraordinary group of youngsters participated, including Ethiopians, immigrants from the Former Soviet Union and one youth with special needs.
This past Fall, it was decided that the Bar/Bat Mitzvah group project will be an ongoing Leo Baeck Education Center program. Coordinators this year are ULTP participants Eti Maharat and Yarus Tarfa, who held the first group meeting on January 3, 2016 at Leo Baeck's Mercaz Ruth outreach center. Seven youth met Eti and Yarus, and participated in ice breakers, the formulation of joint community service activities and the sharing of expectations. All participants thoroughly enjoyed the meeting and expressed their excitement about next week's session.
We will keep you updated on the many ULTP community service projects on this blog throughout the year.