On April 5, 2016, members of this year's University Leadership Training Program for Ethiopian-Israeli women (ULTP) participated in an experiential training workshop at our very own Ein Hayam Trail.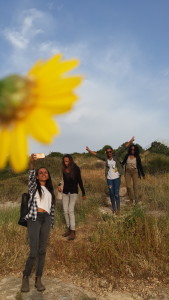 This is one in a series of monthly training sessions for the group, organized by ULTP Coordinator Gili Fogel.  The aim of these sessions is to provide university students with hands-on experience implementing community outreach programs. The Ein Hayam Trail is one of many great Leo Baeck programs that provide inspiration on how to work effectively with community activists.
The tour began at the Arab-Jewish community garden, where the group met with activists from the neighborhood who shared their experiences of working in a mixed neighborhood and on the cooperative efforts of the Ein Hayam Trail project. The visit continued with a tour of the Ein Hayam / Wadi El'Jmal neighborhood with resident Dr. Kamil Sari, who first showed them the unique pottery of a deceased former member of the community who utilized ancient ceramic techniques, and then hosted the group at his beautiful home.
Our young leaders thoroughly enjoyed their visit to the Ein Hayam Trail, remarking what a wonderful idea and lovely place it is:  "We enjoyed the visit very much and were surprised at the extent of the collaboration in this mixed community."