On August 16, 2017, the Leo Baeck Education Center in Haifa hosted 45 students aged 18-26 from the Progressive communities of various cities in the UK during their 10-day Birthright tour of Israel.
The participants visited the Community Garden and Trail in Ein Hayam / Wadi El-J'mal, a small multi-cultural and multi-religious neighborhood in Western Haifa overlooking a spectacular view of the Mediterranean Sea.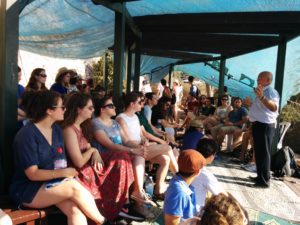 Jewish and Arab neighborhood activists introduced the Birthright students to the Community Garden and Ein Hayam Trail , both part of their community-based initiative to develop community cohesion and a sustainable tourism business model, projects supported by the Leo Baeck Education Center, the Haifa Municipality, and the University of Haifa School of Tourism.  At the Community Garden, the Birthright participants also met and joined activities led by eight Jewish and Arab students from the Leo Baeck and Sisters of Nazareth High Schools in Haifa who participated in the Friends Forever delegation to the U.S. in July. The U.S.-based Friends Forever program aims to promote trust, empathy and friendships among cultures in conflict and to develop leadership skills that participants use to conduct joint programs in the community following their return home.
Rabbi Oded Mazor, Leo Baeck's Head of UK Relations, conducted a ceremony during which the Birthright students planted five olive trees to help beautify the garden, followed by a guided tour of the historic Ein Ha-Yam Trail where several significant archaeological findings have been discovered.
The visit exposed the Birthright students to the reality of shared existence in this diverse Haifa community of contrasts where Jews, Christian and Moslem Arabs, ultra-religious and non-religious, veteran Israelis and new immigrants, live together in harmony. The neighborhood residents were proud to show what can be accomplished when community residents work together.