On August 31, 2015, The U.S. Embassy in Tel Aviv provided Leo Baeck's principals and teachers with a rare treat – a visit from the 2015 USA National Teacher of the Year, Shanna Peeples.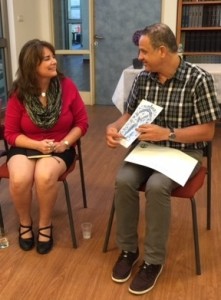 Ms. Peeples is an English teacher in Amarillo, Texas – a city known for welcoming the largest number of refugees per capita in the U.S.  Peeples teaches Advanced Placement students, English Language Learners who speak a total of 27 languages, and struggling students in her school's day program and evening credit recovery program. On the side, she writes for the Huffington Post and contributes to a variety of education publications.
"Love Before Curriculum"
Ms. Peeples shared her teaching philosophy and strategies for connecting and engaging with children and youth.  In the process, she easily connected to our staff and engaged them in a deep and meaningful discussion about what it means to be an educator. She shared many personal stories of her challenges and successes in working with children who come from a wide variety of backgrounds, and stressed that the best way of educating children is to place love before curriculum. We agree.
U.S. Cultural Attaché Sarah Gonzales and Ruth Ish-Horowicz accompanied Ms. Peeples to our campus on Ms. Gonzales' first outreach program since arriving in Israel in the summer. We at Leo Baeck are extremely grateful to the U.S. Embassy for offering our staff such an outstanding educational experience.