On Friday, June 19, 2015, Congregation Ohel Avraham held its third annual Pride Service, led by Rabbi Gabby Dagan, Rabbi Na'ama Dafni-Kellen and Boaz Sterenberg.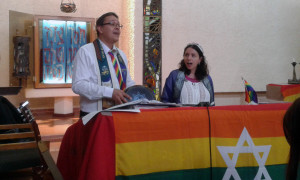 The Pride Shabbat Service at Ohel Avraham draws veteran congregants and visitors who never cease to be amazed by our congregation's openness and beautiful combination of gay pride and Jewish tradition. At our Pride Services, gays and allies sing and pray together through both ancient and new Israeli texts, at times combining old texts with modern tunes that relate to Pride.
The June 19th service consisted of songs and readings celebrating LGBT pride and equality. Shabbat candles were lit by Ohel Avraham congregants who volunteer with various organizations supporting gay youth and young adults in the Haifa region. Ohel Avraham congregant Yavgeny Sorkin gave a moving sermon in which he stated that "We must not ignore hatred, because where hate thrives, there will also be violence and bloodshed. We cannot be a free society if all of our people are not able to live their lives freely and proudly."
"Everyone is welcome at Ohel Avraham." ∼ Congregant Karen Doryoseph
Ohel Avraham's Pride Shabbat is a wonderful tradition that joins Ohel Avraham in celebration with hundreds of reform synagogues around the world.