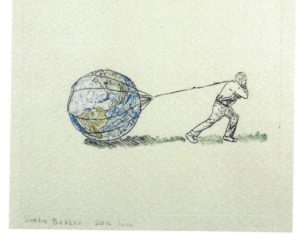 Amitim is a national program sponsored by the Israel Association of Community Centers (IACC) and the Ministry of Health that helps hundreds of people with mental disabilities throughout the country better acclimate into mainstream recreational programs and integrate to the greatest extent possible into their communities. Amitim Programs take place in 60 community centers across the country.
The uniqueness of Amitim is its social rehabilitation mechanism that integrates people with mental disabilities into the general population. Amitim recognizes that one of the main difficulties faced by people with mental disability are social stigmas and one of the program's main goals is increasing awareness and tolerance. It is not enough to work with the person who wants to be integrated into the community — we also need to work with the community to challenge its perceptions of mental disabilities.
Recovery and integration. Individuals with mental disabilities receive professional assistance with their recovery and integration into the community. They work one-on-one with the Amitim Coordinator and her assistant to receive the support they need to acclimate into Leo Baeck Community Center programs and the community in general.
Public advocacy. We work to increase access, promote inclusion, and reduce social stigmas and prejudice. We promote a society where people struggling with mental challenges remain active and take a meaningful role in their community.
The Leo Baeck Amitim Program serves 90 individuals ages 18-65 who have a 40% or greater mental disability. Every Amitim Program throughout the country supports individuals with mental disabilities and creates its own programming. Leo Baeck's projects in 2016 included:
Making Impressions: A Printmaking and Mental Health Awareness Program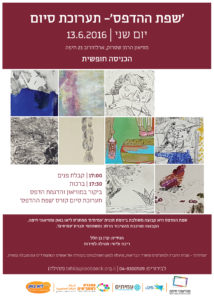 Making Impressions brings artistically inclined individuals with and without mental challenges for weekly meetings and workshops. Participants spend three months learning the art of printmaking; they learn self-portrait, light and shadow, color work in front of a black and white work, and engraving work into the substrate.
A key component of the shared learning experience is dialogue focusing on attitudes towards mental health issues – this occurs during every printmaking workshop and through Amitim's community-wide educational programs (see below). Through Making Impressions, stories of powerlessness and frustration are gradually replaced with new stories that focus on coping – all are reflected by means of the prints and through the participants' artistic creations.
"Through MAKING IMPRESSIONS, dreams come true," stated a participant in this past year's activities, "Participating in the program was an act of personal rebellion for me – a rebellion which dissipated my torment and misery, turning it into an act of adventure and creativity!"
Exceptional Artists: An Amitim Event in Honor of Mental Health Awareness Month
On May 14, 2015 Leo Baeck's Amitim Program held a special event at the Haifa Cinematheque in recognition of Mental Health Awareness Month. Read more about this event on our blog.
"A Healthy Mind" Shabbat service at Leo Baeck's Ohel Avraham Synagogue
On March 18, 2016, Leo Baeck's Ohel Avraham Reform Synagogue sponsored a Shabbat Service on the theme of mental health with Rabbis Gabi Dagan and Na'ama Dafni-Kellen. A very moving sermon was given by a young woman with emotional disabilities.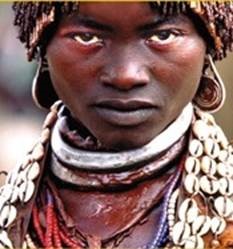 Prozak, Freud, Witches and Exorcism
Renowned Israeli psychiatrist Ori Shwarzman gave a fascinating lecture at Haifa's Tikotin Museum about social rehabilitation in Israel and Africa.
Artist-in-Residency Program 
Coming soon!