On May 14, 2015 Leo Baeck's Amitim Program held a special event at the Haifa Cinematheque in recognition of Mental Health Awareness Month.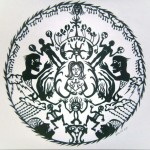 "Artistic creativity enables expression of the different shades in each person." Inbal Lotan
The program opened with an art exhibit featuring the awe-inspiring paper cuttings of artist Inbal Lotan, who also spoke about her disability and its effect on her artistic creativity. Ms. Lotan described how her discovery of art in general, and paper cutting in particular, has helped her cope with agoraphobia – without any formal art training she creates works that express her innermost thoughts and feelings.
The art exhibit was followed by a musical performance and discussion with actor, comedian, singer and songwriter Tomer Sharon. Mr. Sharon was refreshingly candid about his fall into the depths of depression, drug and alcohol abuse, and his detachment from family, friends and society at the height of his popularity and success as a performer. "Depression is not an illness, it is a state of mind that becomes an illness," he said. In the depth of a severe bout of depression, Tomer taught himself to play the guitar and discovered his talent for writing and composing songs. He credits his artistic expression as enabling his gradual return to "normalcy."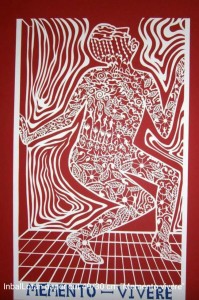 The evening concluded with a screening of the dark comedy "Frank" (2014). Frank is a film about an indie band that choses an unpronounceable name, does not want anyone to like their music, and scorns commercial success.
Nearly 300 people attended this extremely emotional and inspiring evening, which was sponsored by Amitim in cooperation with the Cinematheque and the Leo Baeck, Ramot, and Neve Yosef Community Centers.