Once again, Leo Baeck's annual Arab-Jewish Summer Camp was a hit!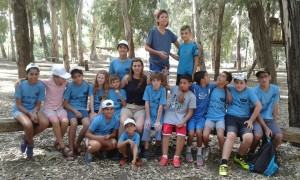 92 Arab and Jewish children in grades 1-5 came together from August 9-14, 2015 to experience some  "challenges of nature" (this year's theme) – they set up tents, cooked together, rode bicycles at a park on Mount Carmel, created environmentally-conscious crafts projects, supported each other at the Beresheet Outdoor Training Park, built rafts and floated on them down the Jordan River.
The Arab-Jewish Summer Camp is filled with deep and meaningful content that forges connections between the Arab and Jewish campers. Each group of children is accompanied by two adult counselors, one Jewish and one Arab, who serve as role models and guides on social issues and communication.
This year, campers learned about the similarities between Israel's major religions, attended a bilingual play at the Almina Theater in Jaffa, and spent time learning each other's languages, songs and traditions. Every day began with an opportunity to learn some Hebrew and Arabic, and every day ended with a discussion in Arabic and Hebrew on the day's experiences. Throughout the camp, Jewish and Arab members of each group were invited to share their personal lives, customs, traditions and culture, thereby fostering increased openness and tolerance. This year – for the first time – there was a waiting list for both Jewish and Arab children. Camp Director Avishai Keinan and Head Counselor Iman Eid were thrilled that all applicants were registered by parents who understood the tremendous importance of this program.
"I sincerely hope that with the help of the children and families who have experienced the program we were able to create ambassadors of friendship and tolerance for others." Camp Director Avishai Keinan
Sixth grader Na'ama has attended the camp for the past four years. She had a wonderful time with her friend Mimas; the girls met at the camp three years ago and have remained close friends ever since. She was also delighted to have fun with new Arab and Jewish friends throughout the week. Na'ama stated that "there was an attachment between the Arab and Jewish kids and great friendships were formed, even though one of the Arab kids in our group didn't speak Hebrew and none of the Jewish kids spoke more than a few words of Arabic."
On the third day of the camp, we had the great pleasure of welcoming representatives of the U.S. Embassy in Tel Aviv, including new cultural attaché Sarah Gonzales. Showing their thanks to the Embassy for supporting the Arab-Jewish Summer Camp for so many years, the children sang songs in Arabic and Hebrew, performed short plays, and read proverbs in Arabic, Hebrew and English.
Leo Baeck Community Center Director Yoav Yagol, one of the founders of the camp, is proud of the significant tradition that began 26 years ago and has persisted in the most difficult of times. Most of the credit he gives to the parents for their trust and confidence in Leo Baeck. At the closing ceremonies, Samia Diab, Vice-Director of the Leo Baeck Community Center expressed her gratitude to camp parents for their commitment to this impactful program: "For the children throughout the camp there was a natural connection. We as adults must continue to make efforts to bring our children together and to fight for friendship and tolerance."
We are currently raising funds to expand the length of the camp next year and to develop a comprehensive, year-round Arab-Jewish Youth Leadership Program. For more information, please contact our Department of Development and International Affairs at
dia@leobaeck.org.il
.