On Friday, November 13, The Leo Baeck Elementary School conducted its annual "Sunrise Hike" for first graders at the Carmel National Park.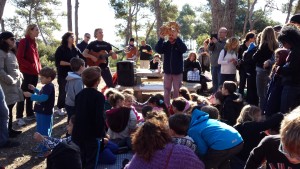 More than 50 first graders and their parents joined teachers Orit Halegua and Noah Golan, School Principal Luli Stern, Elementary School Rabbi Oded Maor, music instructor Boaz Sterenberg and art teacher Dudu Barkat for an early morning program of prayer, song, hiking, sports, arts & crafts, drumbuka and baking pita bread outdoors on a saj.
The children and their parents met at the elementary school at 4:30 am.  The day began with a bus ride to the Carmel National Park and a short early morning "hike from darkness to light." Families then snacked on biscuits and warmed themselves with hot tea and cuddles. Morning shacharit prayers and Israeli song were accompanied by a magnificent view of the sun rising over the Mediterranean.
The children were then split into groups for the morning activities. The program concluded with a hearty breakfast prepared by the children and their parents and kabbalat shabbat.
Rabbi Oded remarked that "now we have commenced the school year, this is a sunrise of a new stage in these children's lives and in the lives of their parents… In days like these, with a lot of darkness around us, we look forward to working with our newest group of students at increasing the light in their lives."