The Leo Baeck Community Center this year continued its tradition, begun five years ago, of promoting tolerance and shared existence through festive events for the various communities of the Center.
On September 24, 2015, about 250 preschool children and their families from the Sauwa Center for Arab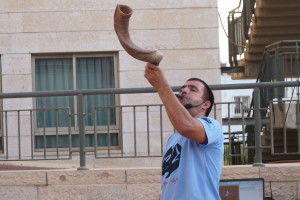 Early Childhood Education and the Leo Baeck Community Center preschools celebrated the holidays of  Tishrei and Eid Al-Adha together.
Activities included holiday arts and crafts, a Gymboree, drumming to music on giant balls, singing and dancing. The celebration concluded with the blowing of the shofar and a wish for tolerance and peace.