Horrified and shocked by the terrorist attacks in Paris on Friday, November 13th, Leo Baeck high school students and teachers gathered on Sunday, November 15, 2015, to demonstrate their solidarity with the French people and to express their sorrow in the wake of the tragic loss of over 100 lives.
Following opening remarks by Dani Fessler, Managing Director of the Leo Baeck Education Center, representatives of students and teachers spoke, backdropped by the French, Israeli and Leo Baeck flags, to the crowd of hundreds gathered in the school lobby.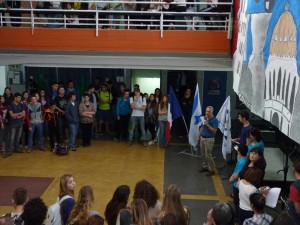 Dani pointed out that the tragic events in Paris have shaken our faith in the basic principles of humanity symbolized by the colors of the French flag, blue for freedom, white for fraternity, and red for brotherhood, and therefore, we must give renewed hope and strength to the French nation.
Sarit Meltzer, coordinator of Arabic Studies in the high school, lamented that Paris "the beloved and romantic city of culture and light was transformed in a matter of a few hours into a suffering, besieged and darkened city." The purpose of terrorism, she said, is to cause fear and threat. Sarit called to all of Europe to unite and to fight terrorism with us, the Israelis, who experience terrorism on a daily basis.
The student representatives expressed their sympathy to the French people on behalf of the entire student body that mourns for the 129 innocent lives lost, and also their hope that citizens of all countries will unite to eradicate radicalism and racism.