This past Saturday night, Haifa's three reform congregations (Leo Baeck's Ohel Avraham, Or Hadash and Shirat Hayam) joined together for a musical Tikkun Leil Shavuot, entitled "Seeing the Voices."  Nearly 200 people attended this special all-night holiday program.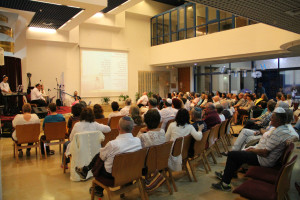 The evening began with a reading from the Book of Ruth combined with Israeli songs led by Ohel Avraham Rabbis Gabby Dagan and Na'ama Dafni-Kellen, and congregant Meital Riskin.
Standup comedian Shlomo Bero then performed part of his one-man comedy "An Ethiopian's word," a satirical and touching piece about Israeli society and the Ethiopian community.
Following Bero's performance, participants attended one of three study sessions and musical workshops:
"A Voice from the Mountains"- A spiritual and musical journey towards receiving the Torah, with Rabbi Golan Ben-Chorin and prayer leader Vered Ybtzen.
"Meeting, Almost Meeting"- Song, poetry and hymns on connecting with God, lead by Rabbi Gabby Dagan and Rabbi Na'ama Dafni-Kellen.
"What Is Not Torah"- A study session in English with Rabbi Adam Zeff.
The musical trio "Peimot" (Heartbeats) ended the evening with their unique arrangements of popular Israeli love songs.
Meital Riskin was excited to take part in the program, finding it "fun, exciting and spiritually uplifting."