On April 11, 2016, Leo Baeck's Beit Ligdol Tov Early Childhood Enrichment Center conducted its Fifth Annual Passover Seder for preschool families in Western Haifa.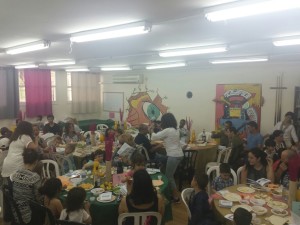 Dozens of parents and children from Beit Ligdol Tov and the Ruth Center participated in an especially festive event this year. New immigrants and veteran Israelis, all dressed in their best holiday clothes, were seated at tables beautifully set for the Passover Holiday. They ate and sang together, read the Haggadah, and enjoyed being together as a family and as a community.  Every child received a special gift to enhance their enjoyment of the holiday.
Liron Sedaka, Director of Youth Programming at Leo Baeck, stated: "I want to take this opportunity to thank our donors and volunteers, and the outstanding Ruth Center team, without whom this special evening would not have been possible!"
Chag Sameach!