On Friday, May 8, 2015, Leo Baeck was honored to welcome Lorry I. Lokey and his granddaughter Joanne Harrington at the opening of the new elementary school wing at the Leo Baeck Main Campus.  Mr. Lokey is a prominent American businessman, philanthropist, and longtime supporter of the Leo Baeck Education Center.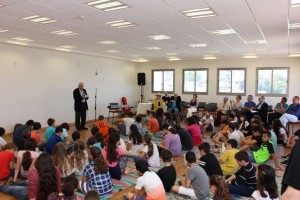 Leo Baeck 5th and 6th graders met with Mr. Lokey and performed a few songs for him. They thanked him (in Hebrew and in English) for funding the new wing, and for his very generous and longtime support of Leo Baeck.
The children's performance was followed by the affixing of the mezuzah and unveiling of a plaque dedicating the top floor of the new wing as an event hall named in the memory of Dr. Thomas E. Samuels. Members of the Samuels Family, Leo Baeck General Manager Dani Fesler and other Leo Baeck staff and Board members were also in attendance.
The new event hall is 220 square meters, with panoramic views of the Mediterranean Sea. It will serve as a versatile venue for a variety of programs and functions, including The Ohel Avraham Beit Midrash, community-wide events, conferences and private events.
Click on the video below to view Leo Baeck's Former Headmaster Rabbi Dr. Bob Samuels affixing the mezuzah to the new hall and reciting  the shehecheyanu with our students: