Mr. Naftali Bennett, Israel's Minister of Education, visited the YEDA-Leo Baeck, Kiryat Bialik School on October 22, 2015.  Joining Mr. Bennett was the Mayor of Kiryat Bialik, the municipality's Superintendent of Schools, and the Haifa District Director of Education, among others.
Mr. Bennett wanted to see the school and learn about the YEDA model firsthand. He toured the facilities, observed classes in action, and even actively participated in the activities of one of the enrichment classes at the request of the students. He was very cooperative and the children had a great time with him. Mr. Bennett was very impressed with our extended school-day model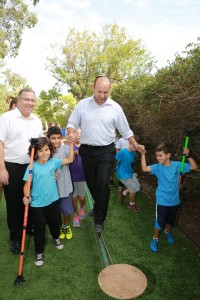 as it is not typical of the standard Israeli public schools.
After touring the classes, Mr. Bennett met with the school's faculty where they discussed the principles of the YEDA-Leo Baeck model, its uniqueness, and the differences between the YEDA-Leo Baeck schools and other public schools in Israel. The Dean of the Faculty of Education at the University of Haifa, who joined the meeting, presented the University's report from the end of the last school year which shows our students' high academic achievements, both independently and in relation to the achievements of students who are enrolled at schools in higher socio-economic neighborhoods. They also discussed the school's commitment to excellence and its success under the leadership of Itai Karin, the YEDA-Kiryat Bialik School Leader.
Bennett's visit provided him with a better understanding of the YEDA-Leo Baeck vision of closing the opportunity gaps in education for children from the socio-economic periphery in Israel. We informed him that we opened a second YEDA school in Petach Tikvah this year and that we intend to continue expanding in the years to come, with the end goal of creating a national network of YEDA-Leo Baeck schools to serve the social and economic periphery in Isr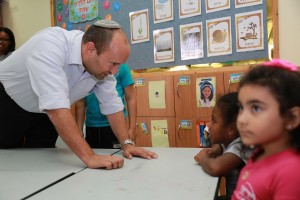 ael, with the sponsorship of the Ministry of Education.
At the end of the visit, Mr. Bennett expressed his admiration for what he saw at the school, praising our School Leader, Itai Karin, and his staff on their commitment to providing a supportive and enriching environment for the children; he expressed how greatly he was impressed by the students themselves, their high academic achievements and the level of satisfaction and love they expressed for their school and their teachers.
We are very proud to say that Minister Bennett's visit to the YEDA-Leo Baeck School in Kiryat Bialik was very successful and that we will continue working together with the Ministry of Education towards our vision for the YEDA-Leo Baeck schools in Israel.