Many people travel to and from Israel, But Ohel Avraham creates opportunities for very different travel experiences – opportunities to meet Jews around the world in profound and even life-changing ways. Ohel Avraham connects Jewish communities across the Atlantic through two unique partnership programs with American congregations.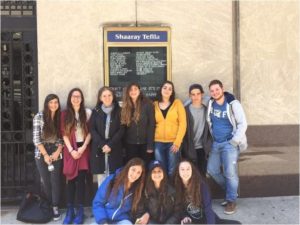 In "Gateways and Tents", Ohel Avraham and Shaaray Tefila in New York facilitate a teen exchange program that includes a 10-day travel and home hospitality in New York and Haifa. Kids hike together in the Golan Heights, pray at the western wall, watch an NBA game and make meaningful memories and long lasting friendships.
"Anafim" is a groundbreaking parent and teen exchange. Together with our partners at Temple Beth Elohim of Wellesley, Massachusetts, we developed a program that takes a holistic approach to Jewish identity, connecting Jewish issues to other real life issues through identity development and resilience building.
Ohel Avraham congregants Michal (mother) and Gaya (daughter) participated in last year's exchange to Temple Beth Elohim. As a mother, Michal loved to hear her daughter express herself about Judaism and topics teenagers encounter in everyday life, such as school, graduation, college, and going to the army. She also enjoyed being hosted and seeing how Jews in another part of the world live. Similarly, Gaya's favorite part was seeing daily life and finding the similarities and differences between America and Israel. Gaya discovered how aspects of American life interact with Jewish identity. In America, Gaya noticed, people have to make an effort to be Jewish and celebrate the holidays, whereas in Israel, this is built into the national calendar.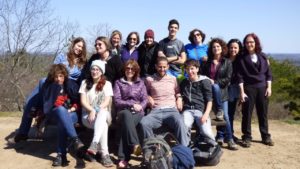 Another Ohel Avraham congregant, Orna, also has children who participated in past delegations. Her son, Gilad, went to America two years in a row. Orna highlighted the reciprocal nature of the partnership: Not only do Israeli families visit America, but they also host the same American families that they visit. This helps form lasting bonds. Both of the teenage boys who were on the exchange with Gilad reconnected with Orna's family on subsequent trips to Israel.
This year, Orna and her daughter, Keren, will participate in a delegation, which will visit both New York and Boston in June. Ohel Avraham will then host Americans in December. Rabbi Gabby will also be going on this trip, not only as one of Ohel Avraham's rabbis but also as a dad: His son, Yam, is a student on the exchange. Rabbi Gabby looks forward to studying with his son and getting to "host and be hosted as Yam's dad." Going as a parent, Rabbi Gabby anticipates getting "to see the transformative experience from a different angle."
Ohel Avraham's members might experience Judaism differently than the members of Shaaray Tefila and Temple Beth Elohim, but they all share a belief in building relationships between Jewish communities.
Written by Talia Kaplan