A series of fires fueled by heavy winds and dry conditions reached Haifa's residential areas this past Thursday. The fires have been blamed in part on arsonists and in part on weather conditions. The police are currently investigating and a few arrests have been made.
In the meantime, nearly 25% of the city's residents were evacuated from their homes while Israeli firefighters battled the blaze with tremendous support from the Palestinian Authority fire service and firefighters from Cyprus, Bulgaria, Greece, Croatia, Italy, Turkey and Russia.
Fortunately there have been no fatalities, but hundreds were hospitalized with burn injuries and for smoke inhalation. Thousands of families, schools, and businesses also suffered extensive property damage. Here is the official tally:
170 buildings and 1,784 apartments damaged, of which 527 are uninhabitable
More than 60,000 people were evacuated from their homes on Thursday
1,600 people are still displaced and are being placed in temporary housing
The Leo Baeck facilities were not damaged by the fires, but 170 students were evacuated from their homes, many of which sustained significant damage. The homes of 40 Leo Baeck teachers and staff were also damaged. Six Leo Baeck students and one teacher lost their homes.
The YEDA-Leo Baeck School for disadvantaged children in Kiryat Bialik was evacuated on Thursday afternoon after a fire was discovered very close to the school. On Friday, doors opened to YEDA students and others in the area whose schools had caught fire. YEDA's CEO Eran Dubovi stated that "In these difficult times, our staff is working tirelessly to instill a sense of normality in the lives of our children and to continue to provide them with ongoing learning opportunities."
Leo Baeck Relief Efforts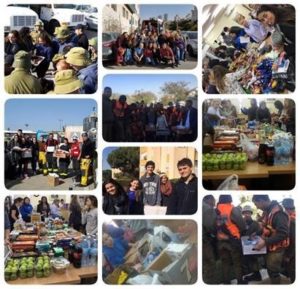 The Leo Baeck Education Center immediately set up an emergency line and used social media to receive updates from and coordinate volunteer efforts on behalf of displaced families. Members of the Leo Baeck community worked around the clock to assist Leo Baeck families and Haifa residents at large with shelter, food, clothing and other needed supplies.
Leo Baeck has been open 24/7 since the fires began, working with the Haifa Municipality and other relief organizations to coordinate donations of clothing, food, supplies, etc., hosting (and arranging for hosting) of displaced families, and doing whatever else is needed for the Leo Baeck community and the Haifa community at-large. This is being done through the tireless efforts of staff and volunteers at the Leo Baeck Community Center, Leo Baeck schools, and the Ohel Avraham Synagogue.
Friday
Leo Baeck middle and high school students spent the night volunteering at evacuation centers throughout the city, especially with elderly individuals who were evacuated from their homes. In the morning our students provided assistance to special education schools in Haifa and kindergartens throughout the city.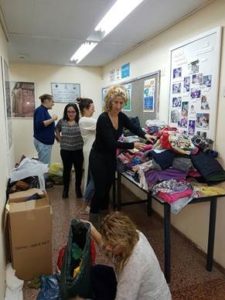 Students were divided into teams according to age, to help in 16 support and assistance centers around the city. They collected and distributed food, clothing, blankets and medicines to firefighters, members of the security forces, and rescue teams who have been working tirelessly in the affected neighborhoods. Teachers and students packed food in boxes to be sent with Leo Baeck drivers directly to rescue personnel throughout the city.
In the meantime, volunteer efforts at Leo Baeck were in full swing with a team of staff and volunteers were assisting numerous families with their immediate needs. The Leo Baeck Community and Sports Center remained open to the public and an entire wing was dedicated to the collection and sorting of needed items.
Most Haifa families were able to return to their homes on Friday, but the cleanup efforts are massive. We continue to help affected families in the long term and until their lives can return to normal. After we received clearance from the emergency authorities, Leo Baeck coordinated a large network of volunteers and volunteer drivers from the Community Center and Ohel Avraham to drive people safely back to their homes.
On Friday, fires still burned throughout the city, but the situation in Haifa was gradually being brought under control.
Saturday
On Shabbat staff and volunteers at Leo Baeck spent the day assisting families who lost their homes in the fire or whose homes have been damaged. We provided emergency aid to Leo Baeck students, teachers, and employees.
Community center facilities remained open throughout the day, available to all Haifa residents free of charge. A logistics center was set up on our campus, from which we called upon the general public to donate urgently needed supplies for us to distribute to affected families. Social media, particularly WhatsApp, was used extensively throughout the day to identify needs, find the required items, and arrange for pickup (when needed) and delivery. An overwhelming number of Haifa residents responded to our call, and at one point it appeared that we had more volunteers than victims.
Sunday/Monday
Teams of students, teachers, employees, board members and many volunteers are working round the clock to sort and organize the equipment as it comes in and deliver it directly to the families in need. We are still getting calls from families affected, who know that Leo Baeck Education Center will provide speedy and efficient assistance.
We are now sending out groups of teachers, students and volunteers to severely damaged apartments to remove items and appliances that are still in good order, as well as items with sentimental value that will be delivered to their owners. Our teams will also sort through other belongings, pack and label salvageable items, and transport them to warehouses in Haifa that we have secured for safekeeping purposes.
Since early morning Friday, there has been a steady stream of much needed donations: linens and towels, home appliances, furniture, children's games and toys, books and more. We are currently seeking donations of school supplies and kitchen appliances, and cash support for 60 families who need to replace all of their personal belongings.
We are very grateful to the Jewish Federation of Houston who responded so quickly and generously to the tragedy in Haifa and has already opened a website to raise funds for immediate assistance.
Thank you also for the warm e-mails and telephone calls from our many friends and supporters in the U.S., the U.K. and throughout the world, expressing concern about the situation and support of our efforts.
We greatly appreciate every word of friendship and solidarity.