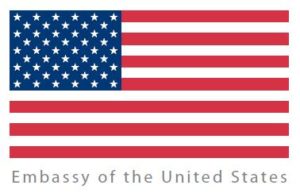 Leo Baeck is pleased to announce that it has been awarded a CMM (Conflict Mitigation and Management) grant from USAID and the U.S. Embassy in Tel Aviv. 
On Tuesday, September 27, Leo Baeck Community Center Manager Yoav Yagol and Head of the U.S. Desk, Raquel Lazar-Paley, attended a CMM Partners Lunch sponsored by the U.S. Embassy's Public Diplomacy Section. The event was hosted by Thomas Genton, Counselor for Press and Cultural Affairs, and featured special guest Todd Holmstrom, senior career member of the U.S. Foreign Service who currently serves as the Israel & Palestine (IPA) Director for Near Eastern Affairs.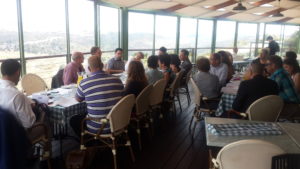 Yoav and Raquel were delighted and honored to be part of a group that included leaders of the Acre Association Community Development "Women as Change Agents in Community Mediation" project, the Citizen Accord Forum, SHIN: The Israeli Movement for the Equal Representation of Women, The Israel Women's Network, Merchavim's "Arab Teacher Integration Program" (a joint initiative with the Ministry of Education), and the Adva Center's "Regional Jewish-Arab Women's Councils for the Promotion of Gender Equality."
This is the first USAID/CMM grant received by Leo Baeck, and we are very excited about our upcoming "Arab-Jewish Joint Community through Youth and Family Leadership Program" that will be supported through this funding.  This program will expand the impact and scope of our longstanding, successful Arab-Jewish Summer Camp by (1) replacing the annual camp reunion monthly family activities, events, dual narrative field trips, and workshops for Leo Baeck's growing Joint Community of Jews and Arabs and (2) establishing a comprehensive, year-round Arab-Jewish Youth Leadership Program for teens. Stay tuned for more about this exciting new development at Leo Baeck!