On September 15th, Leo Baeck hosted two distinguished speakers from the United States in an educational and informative program entitled "Everything You Always Wanted to Know About the 2016 U.S. Elections."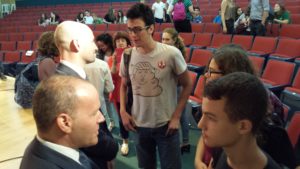 Republican Noam Neusner served as President George W. Bush's principal economic and domestic policy speechwriter for nearly two years, worked as an award-winning financial journalist for several newspapers, and has co-authored and edited four books. Democrat Jay Footlik served as Special Assistant to President Bill Clinton during his presidency and helped build support for domestic and foreign policy issues, including numerous matters involving the Middle East.
The audience was comprised of Jewish and Arab high school students from Leo Baeck, the Reali School, Eroni Hay, Sisters of Nazareth Haifa, Eksal High School, Tichon Hadash High School in Hadera, and Tichon Hamoshana in Zichron Yaakov.
Both guests candidly answered students' questions about Donald Trump, Hillary Clinton, and the American political process.  Mr. Footlik and Mr. Neusner arrived courtesy of the Public Affairs Office of the U.S. Embassy in Tel Aviv.