On March 2, Israeli dancer, choreographer and actress, Renana Raz, performed her play "The Hearing" with three other actors for all of Leo Baeck's educators.
The play is based on the actual case of ORT Tivon high school teacher Adam Verite, whose student wrote a letter to the Minister of Education in 2013 accusing him of being an extreme leftist and inciting against the State of Israel because of personal comments and opinions about the immorality of the Israeli army that he made to students in his philosophy class. Adam Verite was summoned to a hearing by school and ORT administrators as a result of the student's letter and was eventually fired. Following the play, the actors and educators discussed the implications of the text and the case on teachers, schools and Israeli society.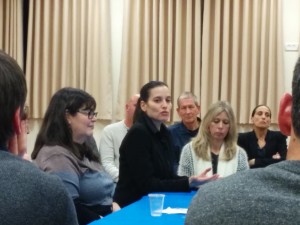 The proceedings of the hearing were recorded and publicized verbatim on the internet in January 2014, causing a heated public debate in Israel about freedom of speech, civics, democracy and the role of the teacher in the "system."
In September 2014, the Ministry of Education issued guidelines to teachers regarding classroom discussions on political and controversial issues, based on the recommendations of a special committee convened following the Verite case. The new guidelines represent a reversal of a former 2009 guideline, and teachers are now allowed to express personal political opinions in class, as long as all sides of an issue are presented and personal opinions are expressed in a way that does not harm or offend anyone.
Renana Raz was impressed by the complexity of the case and presents it in her play in a very unique way.  Rather than learning the text by heart, the actors listen to the actual recording of the text through earphones and speak and perform what they hear in real time. They sit around a table among members of the audience. In the middle of the performance the actors also switch roles. This technique demands that the actors and the audience be alert and actively involved in what they are hearing and that they react. Raz explained that the content of the "hearing" highlights to her the importance of dialogue, and that when parties refuse to listen to each other a true dialogue cannot ensue.