Leo Baeck is thrilled to announce that our Ultra Basketball Team has been chosen to represent the State of Israel in the 14th Annual European Maccabi Games!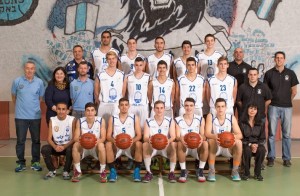 This summer, thousands of athletes, coaches, team managers and officials from throughout Europe will travel to Berlin to participate in Europe's biggest Jewish sports event.  For the first time in its history, the Macabbi Games will take place in Germany in commemoration of the 50th anniversary of diplomatic relations between Germany and Israel.
The European Maccabi Games are held every four years; this summer, more than 2,000 Jewish athletes from more than 30 countries will compete in 20 disciplines in Berlin's Olympic Park.
The Leo Baeck Ultra Basketball Team competes in Israel's national high school basketball league and has won championships throughout the North. Participation in the European Maccabi Games is an excellent opportunity for Leo Baeck students to develop and display their athletic abilities and competitive skills on an international stage, and is a valuable opportunity for intercultural exchange.
We are currently seeking donors interested in sponsoring the 20 Leo Baeck athletes. We will gladly acknowledge donors' names on t-shirts or athletes' uniforms. Please contact our Department of Development for more information.