This year's Leo Baeck Community Center board elections process was combined with an exhibition and event honoring Ethiopian-Israeli community members.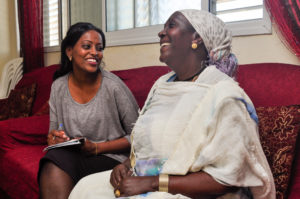 The Leo Baeck Community Center is one of only a few community centers in Israel that utilizes a democratic procedure to select members of its Board of Directors ("Public Management Committee"). Elections took place from May 29th through June 2nd.
Twelve candidates representing different segments of Israeli society – men and women, Jewish and Arab, religious and secular – ran for four available spots on the Board.  Leo Baeck Community Center members and program participants voted at booths set up at the Leo Baeck Main Center and at our outreach centers throughout Western Haifa.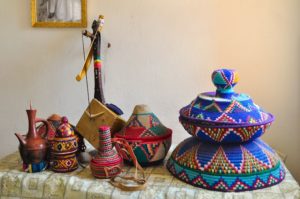 The elections were accompanied by numerous family-oriented activities that drew in a large number of voters. One of these programs was held on May 31st at the Leo Baeck Main Campus, where our University Leadership Training Program for Ethiopian-Israeli Women (ULTP) coordinated a very special Ethiopian Culture Event in conjunction with the elections. The Event featured an awards ceremony for all Ethiopian-Israelis who contributed to the Ethiopian Book Project over the years. The Ethiopian Culture Event also featured an Ethiopian-Israeli comedian, displays of traditional Ethiopian crafts, and a lot of delicious home-cooked Ethiopian food!
The Ethiopian Book Project was developed in 2010 by a ULTP participant, with the aim of bringing together Ethiopian-Israelis to share and document stories of childhood, immigration, absorption and feelings about their lives in Ethiopia and Israel. When Haifa University learned about the project, they recruited staff from the Israel Folktale Archives to teach the students how to document and record family folktales and stories, and to help make them accessible to the public in Israel and abroad. The Ethiopian Project Book will be made available to the public later this year.