On Monday, March 7th, the Leo Baeck 6th graders had an "eggcopter" competition.
Paaz, Grade 6, The Leo Baeck Elementary School Blogger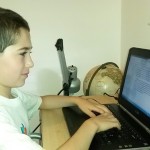 The eggcopter competition is an annual competition where we  create a device designed to protect an egg from a drop of three and a half stories.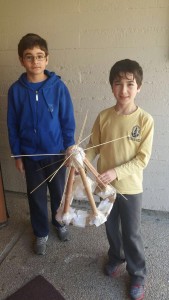 Preparations began two weeks before the event, when we chose whether to create the device alone, in a pair, or in a group. Creating the device was challenging, educational, and especially fun.
We started by designing the best and most original device. Then we searched for good materials, next we assembled it, and lastly, we tried our device out at high places in the neighborhood. From that experience we learned how to improve our eggcopters.
Two weeks later, it was the day of the competition. Everyone was excited as we went up the stairs carefully with our devices. When we reached the top, everyone, in  turn and at the teacher's mark, threw their eggcopter through the window to where the whole school was waiting impatiently.
Our science teachers (we have two) were very proud of us because of the surprising fact that most of the eggs survived. It was a very fun experience and I would be very happy to participate in another competition like this.