The Jewish Rainbow Program (JRP) of the Ohel Avraham Congregation at the Leo Baeck Education Centre in Haifa provides a pathway for members of the LGBTQ community to strengthen their Jewish identity, develop leadership skills, and become active participants in Jewish communal life. It connects members of the community with Progressive Judaism and eliminates the destructive conflict between their gender and Jewish identities.
JRP is focused on providing a transformative year which takes participants from a state of perceived exclusion and alienation to constructive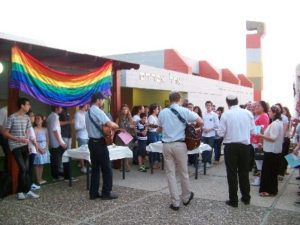 engagement with their Jewish identity. The programme, which began in October 2017 and continues to July 2018, includes: ten experiential learning sessions, a trip to London to learn about successful models of bringing LGBTQ members into Jewish life and organizations, guest lectures, a retreat and workshops about developing new and innovative ways to lead a Jewish community into the 21st century. Graduates of JRP will be the ambassadors and future leaders who spread the JRP programme's message to the wider population.
The participants in the JPR program, led by Rabbi Gabby Dagan and Rabbi Na'ama Dafni-Kellen, will visit London from the 8th to 11th of February 2018, where they will be hosted by the Finchley Progressive Synagogue, Alyth Synagogue, and West London Synagogue congregations.
The goals of the program are as follows:
To enable each participant to reclaim their Jewish identity and develop a positive view of their personal relationship to Judaism;

To provide the training participants need to become effective leaders and role models within and beyond their community;

To involve the group in the life of an inclusive and egalitarian congregation;

To expand the congregation's support for the LGBTQ community.

In the long term the goals of the Jewish Rainbow Program in Haifa are to:
Revitalize the way in which the LGBT community perceives its Jewish identity
Expand the scope for progressive congregations such as Ohel Avraham to interact with this community
On a broader canvas, by means of replication, we hope to obtain the same outcomes throughout Israel. In this way the program is intended to act as a catalyst for lasting social change.
For more details and to join, meet or host the JRP group contact: naama@leobaeck.org.il, Tel: +972-4-8300542.