On Monday, December 21, 2015, Leo Baeck's two afterschool centers for Arab and Jewish children-at-risk (Ma'adoniot) came together for an especially festive joint holiday celebration!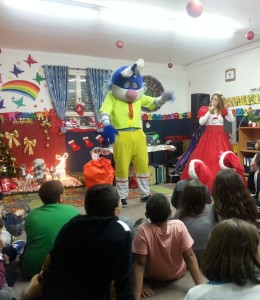 Leo Baeck's Ma'adoniot serve a total of 45 Arab and Jewish children-at-risk referred to Leo Baeck from the Department of Welfare.
Leo Baeck afterschool program director Yafit Makovitz coordinated the Holiday of Holidays program in order to deepen connections between at-risk Jewish and Arab children and encourage tolerance, peace, hope, reconciliation and acceptance of others through experiential activities. Activities included singing, dancing, playing games and eating various holiday sweets together.
The children enjoyed celebrating each other's holidays and the Jewish children in particular enjoyed celebrating Christmas, describing it as "a beautiful holiday, full of light and gifts." The Arab children enjoyed the Hanukkah songs, dancing, sufganiot and the opportunity to host the Jewish kids at their "home away from home."