On Wednesday, December 23, 2015, the Leo Baeck Education Center held an exciting and festive Holiday of Holidays celebration with Haifa's Arab and Jewish preschoolers and their families.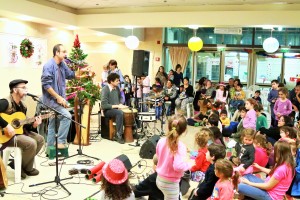 The event attracted 250 children and parents from the Leo Baeck preschools and outreach centers. Activities included creating musical instruments from recycled materials, holiday bingo, lighting the menorah and dancing around a Christmas tree. The children learned to sign the words to the Eli Butner song "Shavim" ("Equals"), and gave their blessings and wishes for a better world of mutual respect, tolerance and peace.
Through the universal language of music, playing the instruments they had created, the children joined together in a wonderful performance which Director of Leo Baeck preschools and afterschool programs Yafit Markowitz called "The Sound of Wonder." The party concluded with Santa Claus handing out delicious Christmas chocolates and sufganiot.
The annual Leo Baeck Holiday of Holidays early childhood celebration is just one of many Leo Baeck programs aimed at enhancing Arab-Jewish relations, establishing connections between all of Haifa's religions and cultures, and educating towards pluralism and tolerance.