Parents joined our campers on Friday, August 12th for the final day of the 2016 Leo Baeck Arab-Jewish Summer Camp.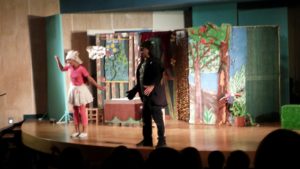 Campers began their final day with games in the sports center, then began saying their farewells – first in their individual groups and then as a whole with their parents. An Arab theatre group from Acre performed a very entertaining interactive, bilingual children's play.  The play addressed issues familiar to all of us: self-esteem, prejudice, and the ability to distinguish between right and wrong.
The children watched a slideshow of their camp experience, and a group of campers also performed songs in Hebrew and in Arabic.
Yoav Yagol and Samia Diab, Manager and Vice-Manager of the Leo Baeck Community Center, presented gifts to camp director Avishai Keinan and all the camp staff. The day concluded with a big pool party for all the camp families at the Leo Baeck Sports Center.
Stay tuned for more posts on camp reunions that will take place throughout Leo Baeck's 2016-2017 program year!