During November 2015, the Leo Baeck Community Center celebrated the annual Sigd holiday with the Ethiopian community living in west Haifa neighborhoods in two colorful and festive events that included personal stories movingly shared and voiced at this special opportunity. 
On Tuesday November 11th, the Beit-El branch hosted a meeting with Orit Ephraim, a community center activist and resident of the Sha'ar Aliyah neighborhood, as part of the "Tales from the Road" initiative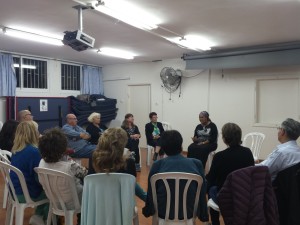 led by the Israel Association of Community Centers. Orit shared the story of her immigration from Ethiopia and adaptation to life in Israel – a journey accompanied by many challenges, tears, moments of joy, and pride in her current accomplishments.
A colorful community celebration took place on November 12th in Beit Ligdol Tov, enriched by Ethiopian music and culture. Parents and children became familiar with different customs, were exposed to unfamiliar f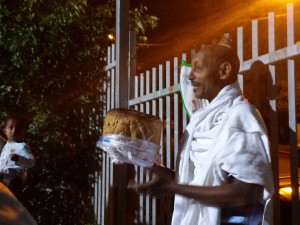 ood, and enjoyed dancing to rhythm and music not usually heard. The event began with creative clay and embroidery workshops that related scenes of livelihood in Ethiopia. Participants listened to the story "Daddy, Tell Me More," written by Naomi Samuel about Michael, a child who immigrated to Israel from Ethiopia. Rabbi Sendaka, a resident of the Shprintzak neighborhood, community activist, and Beit Ligdol Tov employee, performed the holiday blessing over the "Dabo" (the Ethiopian holiday bread), followed by lively dancing and traditional Ethiopian dishes.
The annual Sigd festival this year coincided with the 25th anniversary of Operation Moses, the cooperative effort of the Mossad, the Israel Air Force and the Israel Navy to covertly transport some 8,000 Ethiopian Jews to Israel. Emotions, thoughts, and a desire for more such cultural events were expressed by participants from the Ethiopian community and also by non-Ethiopians exposed to their customs for the first time.