Dani Fessler, Managing Director of the Leo Baeck Education Center in Haifa, visited the U.S. on October 13-24, 2015. 
He met with leaders of Jewish Federations, rabbis, and lay leaders of several schools and organizations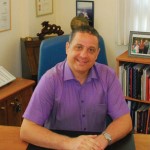 in Cleveland, New York City, Philadelphia, Houston, and Detroit to update them on projects and activities of the Leo Baeck Education Center. At Temple Emanu-El in New York City he addressed the congregation and spoke about the current situation in Israel, and in Houston he met with the newly appointed Israeli Consul General.