Leo Baeck Student Wins Haifa Regional Bible Contest
Leo Baeck High School Student Wins Silver Medal in European Math Competition
Israeli Special Olympics Hosted at Leo Baeck
Leo Baeck Student Wins Haifa Regional Bible Contest
The annual regional Bible Contest for youth took place at the end of February in Tirat Ha-Carmel (town south of Haifa) with the participation of 136 students in grades 9 to 12 from public secular and religious schools in the Haifa region. Leo Baeck student Jonathan Adler won first place among all boys in the competition.  Winners of the regional competition will participate in the national Bible Contest to be broadcast on television and the internet as part of the Israel Independence Day festivities in May. The regional contest was sponsored by the Mayor of Tirat Ha-Carmel, Arieh Tal, and the Haifa Municipality Department of Education, headed by Ami Weiss, as part of their efforts to strengthen students' Jewish identity and knowledge of the Bible.
Leo Baeck High School Student Wins Silver Medal in European Math Competition
Maya Negev, a Leo Baeck High School student, was one of two Israeli girls who won silver medals in the European Girls' Mathematical Olympiad that took place in Romania on April 10-16 with 139 participants from 39 countries.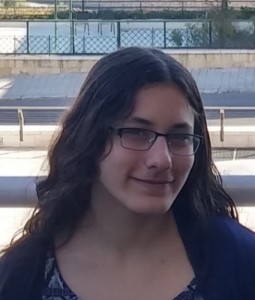 Israeli Special Olympics Hosted at Leo Baeck Education Center
Established in 1968, Special Olympics is a global organization serving athletes with intellectual disabilities. On March 31, the Leo Baeck Education Center hosted the Israeli Special Olympics competition with the participation of 50 athletes, aged 13 to 35, from all over Israel who were cheered by over 100 spectators. Athletes from six teams competed in basketball and Leo Baeck's team won second place. The next event, scheduled for November 2016, will also include swimming. The winners of the national competition will go on to compete in the international Special Olympics and our goal is that Leo Baeck's athletes will also participate in the international event. Leo Baeck students have been participating in the Special Olympics for the past three years, but this is the first time that the competition was held at the Leo Baeck Education Center. Our Leo Baeck High School basketball team members volunteered to help organize the event and award the trophies.