On Thursday, July 9th, Leo Baeck's Clore Shared Existence Center held a Ramadan Iftar meal for 70 Muslim, Christian and Jewish residents of the Ein Hayam neighborhood.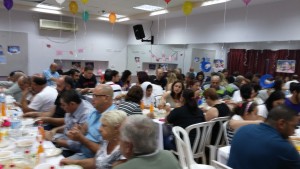 Iftar is the evening meal whereby Muslims break their daily Ramadan fast at sunset. The Iftar program and community dinner is one of the Clore Center's many programs aimed at promoting coexistence, mutual respect and tolerance among different religions.
During the course of the evening, a panel of local religious leaders spoke about the importance of shared existence, human rights and interfaith dialogue. The panel was coordinated by Ali Rafa and included Sheikh Rashad Abu Alhiga, Rev. William Abu and Rabbi Sigal Asher, Rabbi Asher also gave a moving speech on behalf of Rabbis for Human Rights, calling on our elected officials to have the wisdom and courage to bring about the changes that are needed to benefit all people in the region and to promote our country in the eyes of the world.
In attendance at the Ramadan Meal were members of the City of Haifa's Department of Culture, Leo Baeck's Cultural Director Uri Bloom, and Leo Baeck Community Center General Manager Yoav Yagol.  One attendee, a new young resident in the community who recently completed his army service stated: "I purposefully moved to Ein Hayam in order to be part of a joint Arab-Jewish community. I walked over to the center when I heard the crowd, and although I was initially concerned that I would not fit in, I was immediately welcomed and know that I made the right decision to live here."
The program was organized by the new Director of the Clore Shared Existence Center Boris Zaslavsky and Clore Center Program Coordinator Nur Abbasi. Zaslavsky and Abbasi were delighted to see the community come together to share the tradition of Iftar, and were encouraged by the turnout this year, which was larger than expected.
The entire meal was paid for by the generosity of the Haifa Municipality Department of Culture.