On July 12, 2015, Leo Baeck's Clore Shared Existence Center presented its first bilingual Arab-Jewish children theatre production.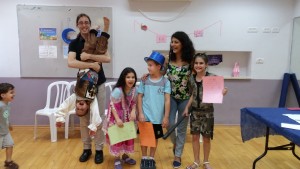 The Clore Center is one of Leo Baeck's seven outreach centers serving the mixed Arab-Jewish community of Ein Hayam/Wadi Jamal. The bilingual play was the culmination of a year-long Arabic-Hebrew language program for children ages 5-8, led by Clore Center Director Boris Zaslavsky and Haifa University student Lian Najami, who also served last year as Head Counselor of Leo Baeck's Arab-Jewish Summer Camp.
This was the first year of the program, which drew a small but enthusiastic group of youngsters for weekly educational activities and games designed to increase vocabulary in a second language. The program was created by Clore Center staff who have had difficulties creating joint activities for Jewish and Arab children because of the language barrier – there currently are no organized educational programs in Haifa that teach Hebrew or Arabic to children at the early elementary school levels.
The goals of the program are to provide a forum for Hebrew- and Arabic-speaking children to learn each other's languages, and to create a space for children to make new friends in safe, enriching and fun environment. During the course of the program, the children learned many new words and used them when writing and rehearsing the play together.
6 year-old Rimi said how happy she was to come to the program: "I wait all week for Tuesdays to come. It is really fun to learn Arabic!"
After the play, participants received a certificate for their participation in the program and were treated to ice cream.